Grad Students Pitch Their Research in GradSlam! Contest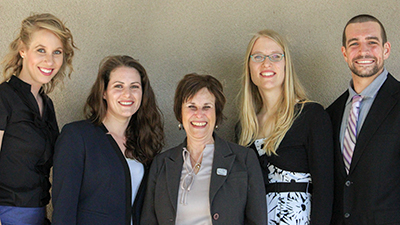 After a fierce round of competition during the GradSlam! finals on April 13, environmental systems student Byran Fuhrmann emerged as UC Merced's new GradSlam! campus champion.
For winning the competition — in which graduate students give 3-minute TED-style presentations of their research — Fuhrmann walked away with the recently increased $5,000 grand prize and the honor of representing UC Merced during the UC systemwide contest May 4 at LinkedIn headquarters in Mountain View.
Three runners-up each received a $1,000 fellowship for their efforts: Melissa Ricketts, a student with the Physics group, Kristen Valentine from Quantitative and Systems Biology, and Christine Hoffman with the Applied Math group.
Traditionally, there have been only two runners-up named during the competition, but a tied score prompted Vice Provost and Graduate Dean Marjorie Zatz to award the third honor rather than break the tie.
"Though they have made it look easy, the level of poise and preparedness displayed by all of our finalists today is the result of an immense amount of hard work," Zatz said. "I can say with certainty that the bar has been raised for future competitions."
Ricketts said her first experience with GradSlam!, while rewarding, was different than she expected.
"GradSlam! is deceptively difficult," Ricketts said. "When you first hear '3-minute presentation' you think, 'Oh, I can talk for 3 minutes, no problem.' But when you actually do it — when you attempt to deliver a presentation that sums up your life's work in such a short span of time — you realize how extremely challenging it is."
The competition's panel of judges included John Loll, CFO for San-Francisco-based investment management firm Dodge & Cox and member of the UC Merced Foundation Board of Trustees; Dulce Kowalkowski, Merced branch manager for Wells Fargo; Eileen Hamilton, a retired teacher and the owner of Turlock's Hamilton Farms; and Jackie Bernhelm, the head of research for Dragoneer Investment Group.
Bernhelm stressed the importance of the communication skills students hone through contests like GradSlam!
"There is so much fascinating work being done at UC Merced, but sometimes it can be hard to understand the real-life importance of academic research," she said. "As an investor, I listen to entrepreneurs pitch their businesses on a regular basis, and I have to say: I was so impressed by the skill with which these brilliant students 'pitched' their research."
Fuhrmann's winning talk, entitled "The Role of Oxygen in the Fight for Clean Water," conveys research through which he tries to use ecological and environmental engineering techniques to improve water quality in lakes and reservoirs.
"I really enjoy the big-picture thinking and the fieldwork associated with environmental engineering," Fuhrmann said. "Not only do I find my work interesting, but the real potential payoff is that my research could make a significant impact on the quality of water that people drink and use every day."
The UC systemwide competition will be streamed live on campus at The Grad Pad or online starting at 10:30 a.m. May 4.
Associate Graduate Dean and Professor Chris Kello, who has emceed the competition for the past two years, said he hopes UC Merced faculty, staff and students will make time to watch the competition.
"This year, for the first time, the systemwide competition will include an audience choice award," Kello said. "UC Merced may be small in comparison to the other UC campuses, but we are also mighty. This is an excellent opportunity for us to demonstrate how loud our voices can be when we raise them in unity to support our campus champion."
Contact Us
Physics Graduate Group Chair
Physics Undergraduate Lead
Physics Address
University of California, Merced
5200 North Lake Road
Merced, CA 95343
Shipping Address
University of California, Merced
ATTN: (Name of recipient)
School of Natural Sciences
Facilities Services Building A
5200 N. Lake Road
Merced, CA 95343

The first new American research
university in the 21st century, with a
mission of research, teaching and service.
University of California, Merced
5200 North Lake Road
Merced, CA 95343
T: (209) 228-4400

UNIVERSITY OF CALIFORNIA, MERCED | 5200 NORTH LAKE RD. MERCED, CA 95343    (209) 228-4400    © 2016 UC REGENTS    SITE CONTACT   PRIVACY/LEGAL NOTICE