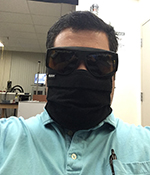 Professional Title:
Graduate Student in the Scheibner Lab
Research Interests:
AMO, Light Matter Interactions, Solid State Physics
Bio:
Bruce Barrios is currently working in Professor Michael Scheibner's Quantum Matter Group. His research interest is in light matter interaction with atom/ atom like structures and solid-state systems. He is working with quantum dots, quantum dot molecules and defects in two-dimensional transition metal dichalcogenides at room temperature and at ~4 kelvin temperature.