November:
Graduate student Al Castelli's talk at the recent FWS meeting in Reno was selected as a 3rd place winner for the Margaret Burbidge Award for graduate experimental research.
October:
Physics students were awarded several prestigious prizes at this year's Natural Sciences annual end of year ceremony by Dean Juan Meza. 
Graduate students  David Ando and Jussi Amaral received the Dean's dissertation fellowship and the Fletcher Jones graduate fellowship respectively - award that include a year of graduate funding. Jacky Wan received undergraduate award for best graduating senior in physics and Robert pucinelli was awarded the award for best undergraduate in the school of Natural Sciences.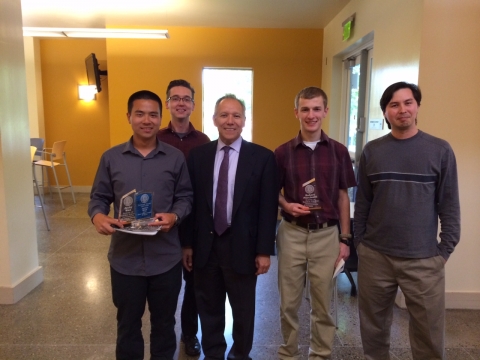 (L-R) Jacky Wan (winner of Grossman award for undergrads in Physics), Jussi Amaral (winner of Fletcher Jones graduate fellowship), Juan Meza, Robert Pucinelli (Best undergrad award for SNS) and David Ando (winner of Deans Dissertation Award Fellowship).